Gutter Cleaning & Brightening Is The Complete Gutter Care Package In Roanoke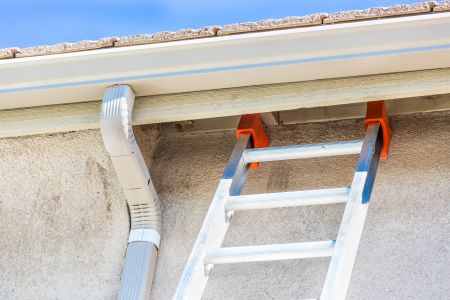 We offer a great care package for Roanoke homeowners seeking services to clean their gutters. Our gutter cleaning and brightening provides a full service that thoroughly cleans the inside and out.
Gutters serve an important role. They make water flow away from your home during storms. When a heavy storm hits, you want your channels to be able to do their job well.
Unfortunately, gutters get stopped up with debris quite often. Leaves, mold, mildew, and other debris can creep into your gutters and prevent them from doing what they're supposed to.
Not only do they stop your gutters, but they also cause them to flood and overflow. This can put your roof at risk of leaks and floods because the water will collect around your roof with nowhere else to go.
Our gutter cleaning is a service we provide to help Roanoke homes avoid water damage to their property and belongings. We clear the debris for you so you can be worry-free during rainstorms.
Gutter Brightening To Clean The Exterior Surfaces Of Your Gutter System
Our pressure washing for Roanoke homeowners is fully dedicated to affording our customer's lovely looks for their properties. We don't just clear your gutters of debris. We brighten them too.
The top of your home is crucial and deserves as much attention as any other. Like our roof cleaning, our gutter cleaning services ensure our customers that the upper parts of their homes have a great look. Even your gutters can increase the visual appeal of your home when they're nice and bright.
Due to dirt accumulation, your gutters are likely dull if you don't make an effort to take care of them. We promise that our gutter cleaning service can clean away dirt and grime to make your gutters shine.
Appalachian Exterior Cleaning LLC Affords Roanoke Clean and Clear Gutters
Between clearing and brightening gutters, our services are fully dedicated to maintaining your gutter channels. We know it takes a lot of work to keep a home properly, and we put that same effort into our services.
We provide complete and total care so you can take pride in how clean your home is. Gutters may not take up a significant amount of space on your property, but they serve a vital role and can accentuate the overall look of your property with bright and clean channels.
NEED QUALITY PRESSURE WASHING IN ROANOKE OR THE SURROUNDING AREAS? DON'T WAIT! CONTACT US TODAY!