Roanoke's Go-To For Dependable Pressure Washing Services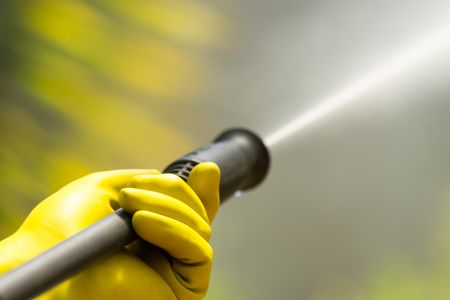 Pressure washing is one of the essential services someone can receive for their home. That's why it's important to us that we are the go-to pressure washing company in Roanoke.
We afford residents all over Roanoke valuable pressure washing because we provide excellent residential and commercial property services. We know it's just as crucial for business owners to keep their properties clean as homeowners.
Making a good impression can be vital for maximizing your business earnings. Your store's facade should be inviting to onlookers and able to attract new customers, or else you're not getting the most out of your property.
Increasing your store's curb appeal can provide a valuable boost to your dealings by attracting more customers to whom you can sell your products. Dull and dirty surfaces have the potential to drive customers away.
Fortunately, our personnel knows the best ways to brighten your Roanoke building. Bright surfaces make for a more visually appealing and inviting business for you and your customers.
Pressure Washing Services For Homes & Businesses In Roanoke, VA
Commercial Pressure Washing
Driveway Washing
Fence & Deck Cleaning
Gutter Cleaning & Brightening
House Washing
Roof Cleaning
Sidewalk Cleaning
Window Cleaning
Roanoke Homes Need Experienced House Washing
Upkeep is a process that every homeowner needs to practice. Without it, you're not doing the job you should be as a property owner.
Having a beautiful property comes with many added benefits. However, your house needs to be clean to receive them. Maintaining a home can be difficult, but we offer our experienced professionals to facilitate home care.
We are capable of ensuring our customers that their properties will remain in top shape with our services. Our house washing is a complete cleaning service that will keep your home looking bright and new.
Professional Gutter Cleaning Can Prevent Water Damage To Your Roanoke Home
We supply Roanoke residents with professional cleaning services. Our gutter cleaning is a critical service for homeowners because they need their gutters to prevent leaks and floods.
Your gutters are there to help prevent water damage to your roof. If your roof receives water damage, you'll soon notice that water is finding its way into your home.
Water will break down the integrity of your ceiling, and you'll get leaks and floods. It would be best if you always wanted to avoid water damage because it can be costly to resolve afterward. You should take steps to prevent it, such as scheduling our gutter cleaning.
NEED QUALITY PRESSURE WASHING IN ROANOKE OR THE SURROUNDING AREAS? DON'T WAIT! CONTACT US TODAY!