First-Rate Pressure Washing Company in Hot Springs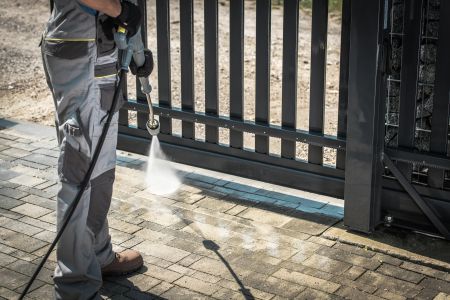 Our pressure washing is first-rate in Hot Springs. We know that homeowners in the area are looking for ways to maintain their homes.
Good pressure washing is intensely valuable to the home-owning process. Maintenance is key to being a good homeowner, and keeping your property clean allows you to keep your property in top shape.
That's why you should seek out the best pressure washing services. Having the best pressure washing means putting forth the best effort to keep your home in top shape.
Our pressure washing allows you to do that because we have cleaning services that are highly rated. We have a bevy of experienced professionals who takes pride in their work.
Removing dirt and grime stains from properties is what we strive to do with every one of our services. Buildup can be damaging to properties, making it vital that it gets taken care of for your home or business to remain well-maintained.
Pressure Washing Services For Homes & Businesses In Hot Springs, VA
Commercial Pressure Washing
Driveway Washing
Fence & Deck Cleaning
Gutter Cleaning & Brightening
House Washing
Roof Cleaning
Window Cleaning
Hot Springs Homes Afforded Excellent House Washing
We make an effort to be a first-rate pressure washing company in the Hot Springs area. This cleaning method requires a depth touch because it can harm you and your property.
Fortunately, we provide Hot Springs homes with experienced pressure washer personnel. We know it's essential to receive cleaning that can effectively remove dirt and grime from your home.
These substances aren't just making your property look less appealing. They're breaking down the surfaces they are attached to and risking unwanted expenses and more unless it's taken care of. Your home will be susceptible to damage if buildup sits on your surfaces.
Phenomenal Gutter Cleaning For Your Hot Springs Home
Our gutter cleaning and brightening is excellent for Hot Springs homes because it is a complete service. We think it's essential to keep all of your surfaces clean.
Gutters may be a small part of your home, but we still think ensuring they're clean is essential. We believe that bright gutters add to the visual appeal of your home.
Dull surfaces will bring down your home's curb appeal because they stick out like a sore thumb. Having dirty gutters will give a wrong impression. However, our services ensure you won't worry about your gutters' appearance.
NEED QUALITY PRESSURE WASHING IN ROANOKE OR THE SURROUNDING AREAS? DON'T WAIT! CONTACT US TODAY!