First-Class Pressure Washing Company Serving White Sulphur Springs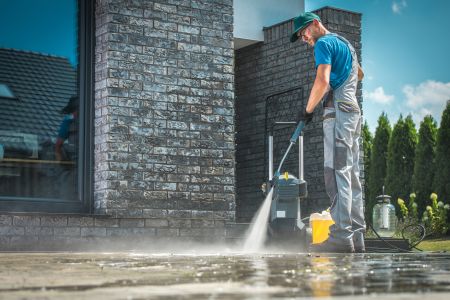 White Sulphur Springs homeowners deserve the best cleaning services they can get. That's why Appalachian Exterior Cleaning LLC affords them valued pressure washing.
Our pressure washing provides customers with cleaning services with attention to detail. We clean multiple kinds of surfaces, from concrete driveways to your roof.
Our services provide many different cleanings for specific areas of your property. These dedicated services ensure that you can have an entirely clean property, giving excellent cleaning to every surface on your property.
We have pressure washing that is useful for both homes and business buildings. So, no matter what kind of property you own, we can supply you with a cleaning service that'll give you the look you want for your property.
We are a reliable pressure washing company in White Sulphur Springs and strive to satisfy all our customers. Delivering consistent pressure cleaning is essential and something we take pride in. Being a first-class pressure washing company is something we take pride in and try to continue by providing professionally cleaned properties to all of our customers.
Pressure Washing Services For Homes & Businesses In White Sulphur Springs, VA
Commercial Pressure Washing
Driveway Washing
Gutter Cleaning & Brightening
House Washing
Roof Cleaning
Sidewalk Cleaning
Window Cleaning
Our House Washing will Bring a Fresh, New Look to your White Sulphur Springs Property
We can provide your White Sulphur Spring home with a valuable pressure washing service. Our house washing is top-notch and can revitalize your home with just one service.
Our personnel can wash away years of dirt and grime to give your beautiful home the same look it had when it was first built. We use high-pressure water and chemicals to brighten the surfaces of your home.
House washing can increase your home's visual appeal and maximize the property's value. That's why we suggest getting our services once or twice a year.
Schedule our Gutter Cleaning and Brightening for your White Sulphur Spring Home
Gutter cleaning is an excellent service we afford to White Sulphur Springs homeowners. Our professionals can clear your gutters and help them do their job.
Hiring us to clean your gutters will save you time and money by ensuring that your house is well-maintained. We clear your dirt and debris drains to ensure they can keep water flowing. This will prevent water damage which is why it's a valuable service for any home.
NEED QUALITY PRESSURE WASHING IN ROANOKE OR THE SURROUNDING AREAS? DON'T WAIT! CONTACT US TODAY!