Best Warm Springs Pressure Washing Services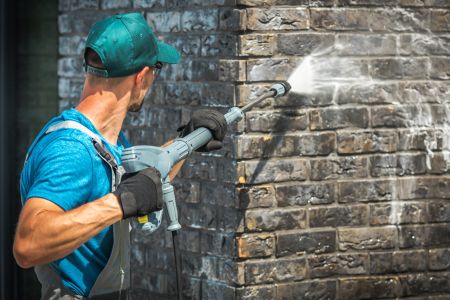 We afford Warm Springs homeowners the best pressure washing in the area. Our pressure washing is great because we offer many excellent services dedicated to efficiently cleaning our customers' properties.
We have services dedicated to assisting both residential and commercial property owners equally. Having a well-maintained property is essential, no matter what the purpose of that property may be.
Owning a property is a significant investment and maintaining it ensures that you're taking steps to protect that investment. Pressure washing is a great way to do so because it increases curb appeal and property value.
If you're looking for the best ways to maintain your Warm Springs property, look no further than Appalachian Exterior Cleaning LLC's pressure washing services. We employ professionals with experience and knowledge within their field, making them capable of providing excellent cleaning services.
Pressure Washing Services For Homes & Businesses In Warm Springs, VA
Commercial Pressure Washing
Driveway Washing
Fence & Deck Cleaning
Gutter Cleaning & Brightening
House Washing
Roof Cleaning
Sidewalk Cleaning
Window Cleaning
Our House Washing Aids Warm Springs Homeowners
We provide pressure washing services that truly assist property owners in the upkeep of their homes. Our house washing, for example, affords Warm Springs homes the sort of pristine look their owners desire.
Over time we have been providing pressure washing services to our customers, which has allowed us to gain a lot of experience and knowledge regarding pressure washing. We know how to make your property shine like new with our service.
If you try to schedule our service once or twice a year, we can guarantee that your home will have a fresh and clean look year-round. That can be vital to homeowners who always want to do their best to keep their properties in top shape.
Our Gutter Cleaning is PHENOMENAL at Keeping Warm Springs Gutters Clear
Gutter cleaning should be a high priority if you care about home maintenance. Your Warm Springs home needs the gutter channels to be cleared to prevent water damage properly.
Proper maintenance means ensuring that every part of your property serves its purpose. Your gutters are no different. They require attention and cleaning to do what they're supposed to do consistently.
We provide gutter cleaning and brightening. This means your gutters will not only be cleaned but they'll also be brightened to increase their visual appeal. We provide that full care package for your gutters in order to fully provide value to your home.
NEED QUALITY PRESSURE WASHING IN ROANOKE OR THE SURROUNDING AREAS? DON'T WAIT! CONTACT US TODAY!