Daleville's Leading Pressure Washing Services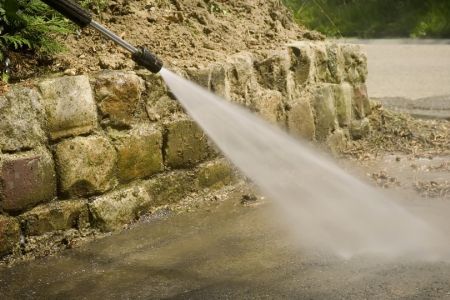 Daleville homeowners looking for the best home cleaning services can look to Appalachian Exterior Cleaning LLC for their pressure washing needs. We offer the leading pressure washing in the area.
Pressure washing is a valuable cleaning procedure offered to residential properties through high-pressure water and chemicals. It's one of the most thorough services that washes dirt and grime, even if it's been there for a while.
If you are not making an effort to maintain your home, you're throwing away money. Not only are you losing value on your home, but you're also risking unwanted expenses due to repairs and replacements you'll have to pay for.
Dirt, grime, mildew, algae, and moss aren't just blighting your property's look. They can damage parts of your property too. Surfaces like your roof, driveway, and windows are just a few of many surfaces that build-up can damage.
For instance, these substances can break apart your concrete, make cracks, and lift parts. That can cause tripping hazards and an unappealing look for your concrete.
Pressure Washing Services For Homes & Businesses In Daleville, VA
Commercial Pressure Washing
Driveway Washing
Gutter Cleaning & Brightening
House Washing
Roof Cleaning
Sidewalk Cleaning
Window Cleaning
You're Daleville Home Deserves Leading House Washing
Our house washing is one of the services we offer that makes us a leading pressure washing company in the Daleville area. Our house washing is a service that we afford our customers to assist them in the upkeep of their homes.
Your property will accumulate wear and tear over time because everything is susceptible to build-up. That's why taking care of your property is essential to keep things working as they're supposed to.
When you try to take care of your property, you maximize everything to benefit from your home. You're optimizing the value of your home and how well it looks and functions.
Appalachian Exterior Cleaning LLC Provides Daleville with Gutter Cleaning
Gutter cleaning is a critical service for Daleville residential properties. To avoid water damage, it would be best to keep your gutters clear of blockages.
That's why our service is so essential for maintaining a home. Our gutter cleaning and brightening is a complete service that makes over your worn-down gutters.
Our service is dedicated to servicing your gutters fully, cleaning them of debris, and brightening them to increase their appeal. We care about genuinely helping homeowners maintain the properties they worked so hard to own. That's a promise we make to our customers.
NEED QUALITY PRESSURE WASHING IN ROANOKE OR THE SURROUNDING AREAS? DON'T WAIT! CONTACT US TODAY!